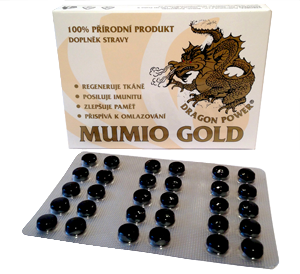 MUMIO GOLD
DRAGON POWER
Mumio Gold is a natural suplement for
health and longevity!
Purely natural product,
Mumio Gold in tablets. 30tab
Price:US$ 18.95
Price: Euro 15.65
Biological Dietary suplement Mumio
Mineral Supplements

History
MUMIO, also called Mumijo, is a dark brown to blackish resinous natural substance wild harvested from the Tian Shan Mountains tha lie in the border region of Kyrgyzstan and of western China.
Mumio is one of the most valuable supplements, as documented over hundreds of years. It is a unique mixture of biologically active substances created by nature. The unique combination of organic and inorganic compounds included in its composition give mumio numerous healing properties.
Mumio as a dietary supplement is known in eastern medicine for over 3000 years.
Properties
MUMIO is recognised to have antibiotic, analgesic antibacterial and antiphlogistic properties and has been proved to be effective in the treatment of: liver disease, kidney disease, gastrointestinal disease and food poisoning.
It has also proved effective in fighting the pain of toothache.
It has been used successfully in alleviating the side effects of radiotherapy and chemotherapy and also in treating viral infections like influenza and viral hepatitis.
Allergic symptoms respond well to treatment with Mumijo.
The use of MUMIO in treating burns and accelerating the healing of other traumatic injuries as well as postoperative healing has been well documented.
Why buy Mumio Gold - Dragon Power?
· Mumio Gold tablets are packed in reflets which at first sight differs our product from similar products that are sold in capsules. The tablet is dissolved right in the mouth and this is also where the healing proces begins – it heals and disinfects the mouth and the oesophagus all the way down. You can see the colour of the tablet and taste the specific taste and smell the aroma of Mumio. If you take Mumio in capsules, you cannot see what you eat, you cannot see the colour or feel the taste and scent, the capsules start to be effective as late as in the intestine. Also, you cannot prepare a dilution for external use (for treatment of oesophagitis, periodontitis, tonsilitis, etc.)
· Mumio Gold is packed in see-through reflets so that you can see how the tablets looks. If the technological requirements are not observed, the tablet can be cracked or overdried or not have the proper weight. This is why many producers use matte, opaque foil for the reflet to hide the potential imperfections.
· Mumio Gold- Dragon Power is a pure extract of mumio. If Mumio is mixed with vegetable powder, the tablet can keep the ideal form but the effect is not the same, therefore it is cheaper.
· Mumio Gold- Dragon Power have obtained an International Certificate of Safety from the National Institute of Public Health.
Directions for usage

Packing: 30 tablets, each tablet contains 200 mg Mumio.
Composition: clean mumio 100%
Recommended dailly allowance: For adults, 1 tablet per day taken with food, for a period of one month.
MUMIO is a versatile, naturally occurring biological regulator, possessing a wide spectrum of health uses.
Contraindications: Individual intolerance for Mumio
Mumio is contraindicated in cases of pregnant and nursing women and children under the age of 12.
Do not exceed a daily selenium dose.
The product must be kept in a dry and cool place
Keep out of reach of children.
Shelf life is 5 years.
Each packet contains the description of the product and instructions for use in five languages.
---
Distribution/Sale
e-mail: dragonpower@volny.cz
---